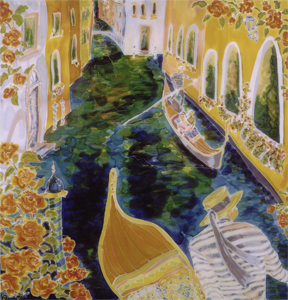 Gondolier of Venice
was inspired by the romance of the waterways of Venice, Italy.   The water effects in this artwork were very important to me to get right and difficult to execute.  I wanted
Gondolier of Venice
to have an engaging romantic and Impressionist flair.  The artwork is framed with lovely roses, and I wanted the perspective to be as if we are standing on a low footbridge over the canals of Venice, and we see one gondola just passing below, and looking ahead we see a second gondola.  I wanted the viewer to experience the canals of Venice.
History of the Gondolier of Venice:  The original work was created in 2005 and sold to a well-known philanthropist in Santa Barbara, California within only a few hours of its completion.  I do miss it!  However, I have a Limited Edition of this work hanging in my home, so I still get to enjoy it!  Another Limited Edition is part of the permanent collection at the lovely architectural masterpiece, the new Cancer Center of Community Memorial Hospital.    Gondolier of Venice is still available in Limited Edition prints and has been internationally licensed on glass plates, and also available also on other lovely items such as scarves, mugs and more, at Create.bz.
Can't find what you're looking for?  If you are interested in purchasing a print or other fun items with this artwork or licensing this artwork, please contact me at M. Nicole van Dam.
This site contains the valuable intellectual property of M. Nicole van Dam. Without limiting the generality of the foregoing, M. Nicole van Dam® and Artimagination® are respectively federally registered trademarks owned by M. Nicole van Dam, and the contents of this site, including each artwork, each artwork element, title, storyline, book, character, poetry and text, are each respectively TM and (c) 1999-2014 M. Nicole van Dam. All Rights Reserved. Similarly, the artwork on this site, including also the look and feel and style of the artwork and individual elements within the artwork, constitutes the valuable trade dress of M. Nicole van Dam. No contents of this site or any artwork or writing on this site may be reproduced without the express written consent of M. Nicole van Dam. To request such consent or to license the artwork or other contents of this site, please contact M. Nicole van Dam.